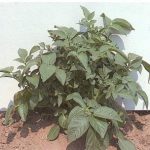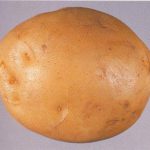 Tuber Shape:
Elliptical to oblong
Flesh:
White
Yield:
High
Special Gravity:
Medium – high
Maturity:
Mid-season
Resistances:
Late blight- resistance to race 1
Blackleg – moderately resistant
PVY – resistant
PVA – resistant
Net necrosis – resistant
Drought – tolerant
Wart – highly resistant
Susceptibilities:
Verticillium wilt – highly susceptible
Pink eye – highly susceptible
Storability:
Good
Consumer Quality:
An excellent table and good chipping variety.
Chief Market:
Fresh market and chipping. Most important seed export variety due to its wide adaptation.